Welcome to Aligned Flow® Yoga's audio classes! These recordings are taken from my regularly scheduled classes taught at Prana Yoga Center in Denville, NJ.
In my class library you will find Gentle slower moving floor-based classes as well as more active Aligned Flow® classes ranging from Beginner to Intermediate.
For $10 per month you have unlimited access to my entire library of audio classes.
New classes will be added each week and you can cancel at any time.
One of my intentions is always to teach clearly, offering comprehensible alignment cues. If you have any questions about something, please ask. I am always glad to clarify.
*Disclaimer: Because they are classes taught at my home studio interacting with my real students, there will be occasional references to things you won't be able to see. There are also some right/left mistakes and the occasional bad joke (maybe the same one more than once). These recordings are not perfect and for the most part, although I do have a sequencing method, these classes are not pre-scripted as I teach to the people and circumstances in front of me. That being said, I have had others test them, and have gotten great feedback. I hope these classes serve as a stand in when you cannot make it to a live group class and support you in coming home to yourself again and again.
As with all classes, please practice with caution especially if you have any injuries and conditions. With all exercise, if you are under the care of a healthcare provider, please make sure to have their approval before beginning this or any new physical activity. Every posture can be modified to support YOUR highest health. If I don't offer a modification that works for you, please do not force yourself into a posture. Your joints should never hurt. Child's Pose or Apanasana (lying on your back with your knees hugging into your chest) are always good options.
Your Instructor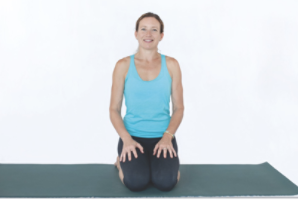 Christy Naida Linson is an E-RYT 500 and a licensed massage therapist (LMT). She began practicing yoga in 1999 while attending massage school in Maui, HI. Her love for yoga and beautiful places led her to receive her bachelors in Contemplative Psychology with a concentration in somatic (mind-body) psychology with a minor in traditional Eastern arts and yoga from Naropa University in Boulder, CO. She completed both her 200 hour (2007) and 300 hour (2009) yoga teacher trainings with YogaWorks in NYC as well as 100 hours with Maty Ezraty. She continues to study with a combination of teachers who straighten her out but also remind her to set herself free. This is where the heart of Aligned Flow® lies.
She is blessed to be the owner of Prana Yoga Center, direct the Aligned Flow® 200 hour teacher training program, lead retreats in beautiful places, and has offered deep tissue mobility treatments, therapeutic and Thai massage to athletes for 20 years including 7 years with the NY Jets. She is a SUP (Stand Up Paddle) yoga and paddle instructor and owner of the Aligned Flow® Floating Studio.
Frequently Asked Questions
How often can I expect new classes?
I teach and record 5 group classes each week. Unless there are recording issues, or I happen to be away, there will be 5 new classes uploaded every week.
How long do I have access to the course?
You will have access as long as you are an enrolled monthly member.
What if I am unhappy with the classes?
I would never want you to be unhappy! If you are unsatisfied with your purchase, please contact me and you will not be charged again.